The Union Budget 2020-21 Has been represented by Finance Minister of India, In The Parliament on 1st Feb 2020. This year budget has been represented as "Jan-Jan Ka Budget 2020-21"  & The Union Minister of Finance has presented the Budget 2020-21. The Budget, with the central theme of ease of living for all citizens, is based on three prominent themes:
Aspirational India –

Better standards of living with access to health, education and better jobs for all sections of the society

Economic Development for all –

 "Sabka Saath , Sabka Vikas , Sabka Vishwas".

Caring Society –

Both humane and compassionate; Antyodaya as an article of faith.
The list of Budget documents presented to the Parliament, besides the Finance Minister's Budget Speech, is given below:
A. Annual Financial Statement (AFS)
B. Demands for Grants (DG)
C. Finance Bill
D. Statements mandated under FRBM Act:
i. Macro-Economic Framework Statement
ii. Medium-Term Fiscal Policy cum Fiscal Policy Strategy Statement
E. Expenditure Budget
F. Receipt Budget
G. Expenditure Profile
H. Budget at a Glance
I. Memorandum Explaining the Provisions in the Finance Bill
J. Output Outcome Monitoring Framework
K. Key Features of Budget 2020-21
Union Budget
The Union Budget is also known as the Annual Financial Statement. Article 112 of the Constitution of India lays down that it is a statement of the estimated expenditure and receipts of the Government for a particular year. 
The Budget keeps the account of the finances of the government for the fiscal year (from 1st April to 31st March).
The Budget is presented on 1st February (until 2016, it was presented on the last working day of February) so that it can materialise before the commencement of the new financial year which starts on 1st April. 
In 2017, a 92-year-old tradition was broken when the railway budget was merged with the Union Budget and presented together.
The Budget has to be passed by the Lok Sabha before it can come into effect.
The Union Budget is divided into Revenue Budget and Capital Budget. For more on these terms, check Union Budget – Important Economic Terms.
In the Union Budget, the disbursements and receipts of the government comprise the various types of government funds in India namely, the Consolidated Fund of India, the Contingency Fund and the Public Account. 
The Economic Survey of India is released ahead of the presentation of the Budget. This document is prepared under the guidance of the Chief Economic Advisor and is presented for discussion in both Houses during the Budget session.
Important Economic Terms Related Union Budget & Their Meanings
The table below will bring to you a list of all the important terms that are related to and also used in Union Budget:
Economic Term
Meaning
Annual Financial Statement
It encompasses the receipt and expenditure of the Indian government. The information on the Consolidated Fund of India, Contingency Fund of India and Public Accounts is provided. (Read about the types of funds in India here.)
Revenue – Receipt & Expenditure

Revenue Receipt:

The receipts received which cannot be recovered by the government
It comprises income amassed by the Government through taxes and non-tax sources like interest, dividends on investments.

Revenue Expenditure:

Expenditure incurred by the Union Government for purposes other than for the creation of physical or financial assets.
It includes those expenditures incurred for the usual functioning of the government departments, grants given to state governments and interest payments on the debt of the Union Government etc.

Capital – Receipt & Expenditure

Capital Receipt:

Receipts which generate liability or decrease the financial assets of the government
It includes borrowings from the Reserve Bank of India and commercial banks and other financial institutions
It also consists of loans received from foreign governments and international organization and repayment of loans granted by the Union government

Capital Expenditure:

Spending incurred by the government which results in the formation of physical or financial possessions of the Union government or decrease in financial liabilities of the Union Government.
It contains expenditure on procuring land, equipment, infrastructure, expenditure in shares.
It also includes mortgages by the Union government to Public Sector Undertakings, state and union territories

Corporation Tax

Tax on profits of companies

Direct Tax

Taxes which are imposed directly on individual and company
It comprises income tax and corporation tax

Indirect Tax

Taxes which are imposed on goods and services
It comprises taxes like service tax, excise taxes, and customs duties

Fiscal Policy

The policy of the government
Fiscal policy is the means by which a government adjusts its expenditure levels and tax rates to monitor and influence a country's economy.

Revenue Deficit

It is the additional expenditure of government over revenue receipts

Fiscal Deficit

It is the difference between the total expenditure of the government and its total receipts, not including the borrowing.

Primary Deficit

Fiscal deficit – interest payments= Primary Deficit

Non-Tax Revenue

Government revenue not generated from taxes.
Examples of non-tax revenue:

Aid from another level of government ((intragovernmental aid): in the United States, federal grants may be considered non-tax revenue to the receiving states, and equalization payments; Aid from abroad (foreign aid) etc

Gross Domestic Product (GDP)
Monetary value of all finished goods and services made within a country during a specific period
15 Terms related to Indian Economy which Exams Aspirants should know
Candidates find it difficult to understand economic terms seen in the news. These terms are quite frequently read in the newspapers too. We are providing a list of top 15 terms which are recurring in current affairs.
Important Economic Terms Seen in News (Important for Competitive Exams)
Economic Terms
Meaning
Statutory Liquid Ratio (SLR)
Reserve requirement that commercial banks are required to maintain in the form of cash, gold reserves, Reserve Bank of India- approved securities before providing credit to the customers
Cash Reserve Ratio (CRR)
Cash Reserve Ratio (CRR) is a specified minimum fraction of the total deposits of customers, which commercial banks have to hold as reserves either in cash or as deposits with the central bank. CRR is set according to the guidelines of the central bank of a country
Marginal Cost of Fund based Lending Rate (MCLR)
Marginal Cost of Funds based Lending Rate (MCLR) is the minimum lending rate below which a bank is not permitted to lend
Repo Rate (RR)
Repo rate is the rate at which the central bank of a country (Reserve Bank of India in case of India) lends money to commercial banks in the event of any shortfall of funds.
Reverse Repo Rate (RRR)
Reverse Repo rate is the rate at which the Reserve Bank of India borrows funds from the commercial banks in the country
Wholesale Price Index (WPI)
An index that measures and tracks the changes in the price of goods in the stages before the retail level – that is, goods that are sold in bulk and traded between entities or businesses instead of consumers. For more on WPI, click here.
Consumer Price Index  (CPI)
Measure that examines the weighted average of prices of a basket of consumer goods and services, such as transportation, food, and medical care. For more on CPI, click here.
Foreign Institutional Investor
An investor or investment fund registered in a country outside of the one in which it is investing
Manufacturing Activity
Manufacturing, processing, testing, packaging, storing and other activities undertaken or required to be undertaken by CRL or its suppliers in order to manufacture and supply Client with the Drug Product
Foreign Direct Investment
An investment in the form of a controlling ownership in a business in one country by an entity based in another country
Monetary Policy
Policy adopted by the monetary authority of a country that controls either the interest rate payable on very short-term borrowing or the money supply, often targeting inflation or the interest rate to ensure price stability and general trust in the currency
Base Effect
Distortion in a monthly inflation figure that results from abnormally high or low levels of inflation in the year-ago month
Liquidity Adjustment Facility (LAF)
A tool used in monetary policy, primarily by the Reserve Bank of India (RBI), that allows banks to borrow money through repurchase agreements (repos) or for banks to make loans to the RBI through reverse repo agreements.
Marginal Standing Facility (MSF)
The penal rate at which banks can borrow money from the central bank over and above what is available to them through the LAF window.
Index of Industrial Production (IIP)
Index for India which details out the growth of various sectors in an economy such as mineral mining, electricity and manufacturing.
Union Budget 2020-21
Union Budget of India is the country's comprehensive Annual Financial Statement.
The Union Budget consists of a detailed account of the government's finances, its revenues from various sources and expenditures to be incurred on different activities that it will incur.
As mentioned in Article 112 of the Indian Constitution, the Union Government lays a statement of its estimated receipts and expenditure for that year, From April 1 to March 31, before both the Houses of Parliament.
The term "budget" is not mentioned in the Constitution.
CLICK HERE to See Union Budget Video
Union Budget 2020-21: Economy
The Union Minister of Finance has presented the Budget 2020-21. Given below are the important macroeconomic indicators and proposed changes in taxation in India.
Macroeconomic Indicators

Nominal growth of GDP – 10% (2020-21). Nominal GDP is an assessment of economic production in an economy that includes current prices in its calculation.
Fiscal deficit – 3.8% of GDP (2019-20), 3.5% of GDP (2020-21).

The estimation for the FY20 was at 3.3%, thereby deviating from the target set in the fiscal path.
The Government has made use of Section 4 of the FRBM (Fiscal Responsibility and Budget Management) Act which provides a trigger mechanism for a deviation from the estimated fiscal deficit on account of structural reforms in the economy with unanticipated fiscal implications.
Reasons: The increase in deficit estimate is mainly on account of the shortfall in revenue collection. The government on its part has lowered its expenditure on many of the heads. For example, food subsidy in the budget estimate 2019-20 was over ₹1.84 lakh crore, which has been lowered to ₹1.08 lakh crore in the revised estimate
Fiscal deficit, by definition, is the difference between a government's revenue receipts plus non-debt capital receipts (NDCR) and its total expenditure.
Fiscal deficit occurs when a government collects lesser money – in terms of personal and corporate taxes, GST, market loans and NDCR (money received from sale of old assets) etc. – than it spends, on items such as central sector schemes, salaries of employees, subsidies, payments to states and so on.
According to the Fiscal Responsibility and Budget Management Act in India, the recommended fiscal deficit should be 3% of GDP.

Revenue deficit- 2.7% of GDP (2020-21). By definition, revenue deficit is the excess of revenue expenditure over revenue receipts.
Size of Economy: India is now the fifth largest economy of the world in terms of GDP.
Growth and Inflation: 7.4% average growth clocked during 2014-19 with inflation averaging around 4.5%.
Poverty alleviation: 271 million people raised out of poverty during 2006-16.
FDI: India's Foreign Direct Investment elevated to US$ 284 billion during 2014-19 from US$ 190 billion during 2009-14.
Central Government debt reduced to 48.7% of GDP (March 2019) from 52.2% (March 2014).

Two cross-cutting developments:

Proliferation of technologies (Analytics, Machine Learning, robotics, Bioinformatics and Artificial Intelligence).
Highest ever number of people in the productive age group (15-65 years) in India.

15th Finance Commission has cut state share of central taxes to the states by one percentage point to 41%.

This is due to the newly formed Union Territories of Jammu and Kashmir, and Ladakh, which will get funds from the Centre's share, which means devolution will be for 28 states compared to 29 earlier.
42% was recommended by the 14th Finance Commission
Changes in Taxation
Dividend Distribution Tax (DDT) removed. Instead of companies paying DDT on the dividend they give out, the dividend income will now be added to the taxable income of the recipient, and taxed at the applicable rate.
Income Tax

New tax slabs and lower income tax rates. Around 70 of the existing exemptions and deductions to be removed in the new simplified regime.
New tax regime to be optional – an individual may continue to pay tax as per the old regime and avail deductions and exemptions.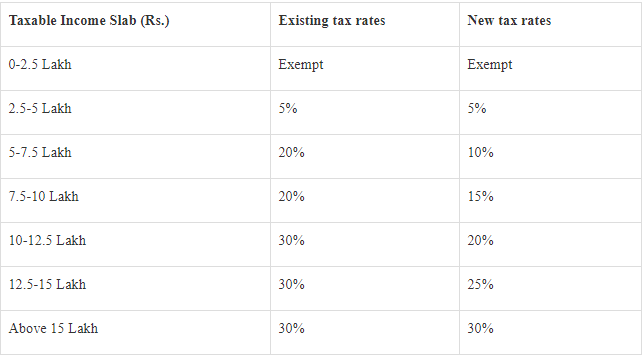 Corporate Tax: Concessional corporate tax rate of 15% to new domestic companies in manufacturing and power sector.
5% health cess to be imposed on imports of medical equipment given these are made significantly in India.
Issuance of Unique Registration Number to all charity institutions for easy tax compliance.
'Vivad Se Vishwas' scheme, with a deadline of 30th June, 2020, to reduce litigations in direct taxes.
100% tax exemption to the interest, dividend and capital gains income on investment made in infrastructure and priority sectors before 31st March, 2024 with a minimum lock-in period of 3 years by the Sovereign Wealth Fund of foreign governments.
Union Budget 2020-21: Social Sector and Infrastructure
The Union Minister of Finance has presented the Budget 2020-21. Given below are the provisions related to the social sector and infrastructure.
Agriculture
A budget allocation of ₹2.83 lakh crore for 16 action points.
The action points include measures to provide farmers access to faraway markets by running trains (Kisan Rail) and flights (Krishi Udaan) and providing relief to farmers from water shortage.
It will also include 'One-Product One-District' for better marketing and export in the Horticulture sector. The scheme is already functional in Uttar Pradesh.
The focus is also on Jaivik Kheti Portal (online national organic products market), Zero-Budget Natural Farming, PM-KUSUM.
Agri-credit availability set at ₹15 lakh crore for 2020-21.
Health
An allocation of ₹69,000 crore for the health sector.
Proposal to set up hospitals in Tier-II and Tier-III cities with the private sector using PPP model.
Expansion of Jan Aushadhi Kendra Scheme to all districts by 2024.
A task force to be appointed to recommend regarding steps required to lower the Maternal Mortality Rate (MMR) and improving nutrition.
Education
₹99,300 crore for the education sector in 2021 and about ₹3,000 crore for skill development.
Urban local bodies to provide internship to young engineers for a year.
Degree-level full fledged online education programmes by institutions ranked in the top 100 in NIRF rankings, especially to benefit underprivileged students.
A national police university and a national forensic science university is proposed to be setup.
IND SAT exam for students of Asia and Africa to promote "study in India" programme.
Infrastructure
Infrastructure Financing

Rs. 103 lakh crore for National Infrastructure Pipeline projects announced.
An international bullion exchange to be set up at GIFT City.
Proceeds from divestment will go only into capital expenditure and not revenue expenditure.

Transport

Budget proposes to provide ₹1.7 lakh crore for transport infrastructure in 2021.
National Logistics Policy to be released soon.
Chennai-Bengaluru Expressway to be started.
Government to monetise 12 lots of national highways by 2024.

Railways

Aims to achieve electrification of 27,000 km of railway lines.
Plan to have a large solar power capacity for Indian Railways.

100 more airports will be developed by 2024 to support UDAN.
5 new smart cities in public-private partnership mode.
Culture and Tourism
Proposal to establish Indian Institute of Heritage and Conservation.
5 archaeological sites to be developed as iconic sites:

Rakhigarhi (Haryana)
Hastinapur (Uttar Pradesh)
Shivsagar (Assam)
Dholavira (Gujarat)
Adichanallur (Tamil Nadu)

Maritime museum to be set up at Lothal (Gujarat).
Tribal Museum in Ranchi
A museum on Numismatics and Trade to be established.
Union Budget 2020-21: Financial Sector and Governance
The Union Minister of Finance has presented the Budget 2020-21.
Key Points
Bank deposit insurance cover has been increased from ₹1 lakh to ₹5 lakh per depositor.
Government plans to amend the Companies Act to decriminalise civil offences.
Government to sell part of its stake in LIC via public offering.
Scheme to encourage manufacturing of mobile phones, electronic equipment and semiconductor packaging.
National Technical Textiles Mission for a period of 4 years.
NIRVIK Scheme for higher export credit disbursement launched.
Setting up of an Investment Clearance Cell to provide end to end facilitation.
Early life funding proposed, including a seed fund to support ideation and development of early stage Start-ups.
Audit threshold for MSMEs raised to ₹5 crore from ₹1 crore.
Certain specified categories of Government securities to be opened fully for non -resident investors also.
Foreign Portfolio Investment (FPI) limit in corporate bonds increased to 15% from 9% of its outstanding stock.
NBFCs eligibility limit for debt recovery reduced from:

Rs. 500 crore to Rs 100 crore asset size
Rs 1 crore to Rs 50 lakh loan size.
Digitisation
Knowledge Translation Clusters for emerging technology sectors.
Policy to enable the private sector to build Data Centre parks throughout the country.
Rs.8000 crore proposed over five years for National Mission on Quantum Technologies and Applications.
Mapping of India's genetic landscape- Two new national level Science Schemes to be initiated to create a comprehensive database.
Governance
An independent, professional and specialist National Recruitment Agency (NRA) for conducting a computer-based online Common Eligibility Test for recruitment on all non gazetted posts. A test-centre in every district, particularly in the Aspirational Districts will be set up.
New National Policy on Official Statistics to promote the use of the latest technologies including AI and lay down a road-map towards modernised data collection, integrated information portal and timely dissemination of information.
A sum of Rs. 100 crore allocated to begin the preparations for G20 presidency to be hosted in India in the year 2022.
Official Portal for Budget: CLICK HERE
Sources: The Hindu/The Indian Express/ Ministry of Finance/MHA/NITI/AIR-News/PIB/PTI/R & D -Arkin 
Economic Survey 2019-20 Enable Markets, Promote 'Pro-Business' Policies and Strengthen 'Trust' in the Economy and Wealth Creation at Grassroots
#Arkin Institute:Mumbai's Ranked#1 UPSC Coaching in Mumbai-MH (75+Centers across India
ANDHERI-BORIVALI-DADAR-GHATKOPAR-NERUL-THANE-VASHI
Ph: 9987 012 735
Call: 9821477550
Mo: 8928031380
Author: S. R. Srivastav
Team-Arkin
www.exams.arkin.in